Customer-Facing Display (CFD) setup for Chrome
This article applies to Dutchie POS.
If you're connecting a Customer-Facing Display (CFD) to a Dutchie Register terminal, follow these steps instead.
Setup steps
Connect the CFD to your device using the included USB-C cable.
Log in to Dutchie POS and launch the Register.
Click the menu icon in the upper left.
Go to Settings > Advanced.
Click Open Cart Display. A new Chrome window will open.


If you don't see the Open Cart Display button, contact Dutchie Support to have the "Use Cart Display" feature enabled.

Log in again in the new window.
Connect the CFD to your device and power it on (Dutchie/Elo CFD shown - your CFD may vary).


Click and drag the new window over to the CFD.

Expand the window to full screen.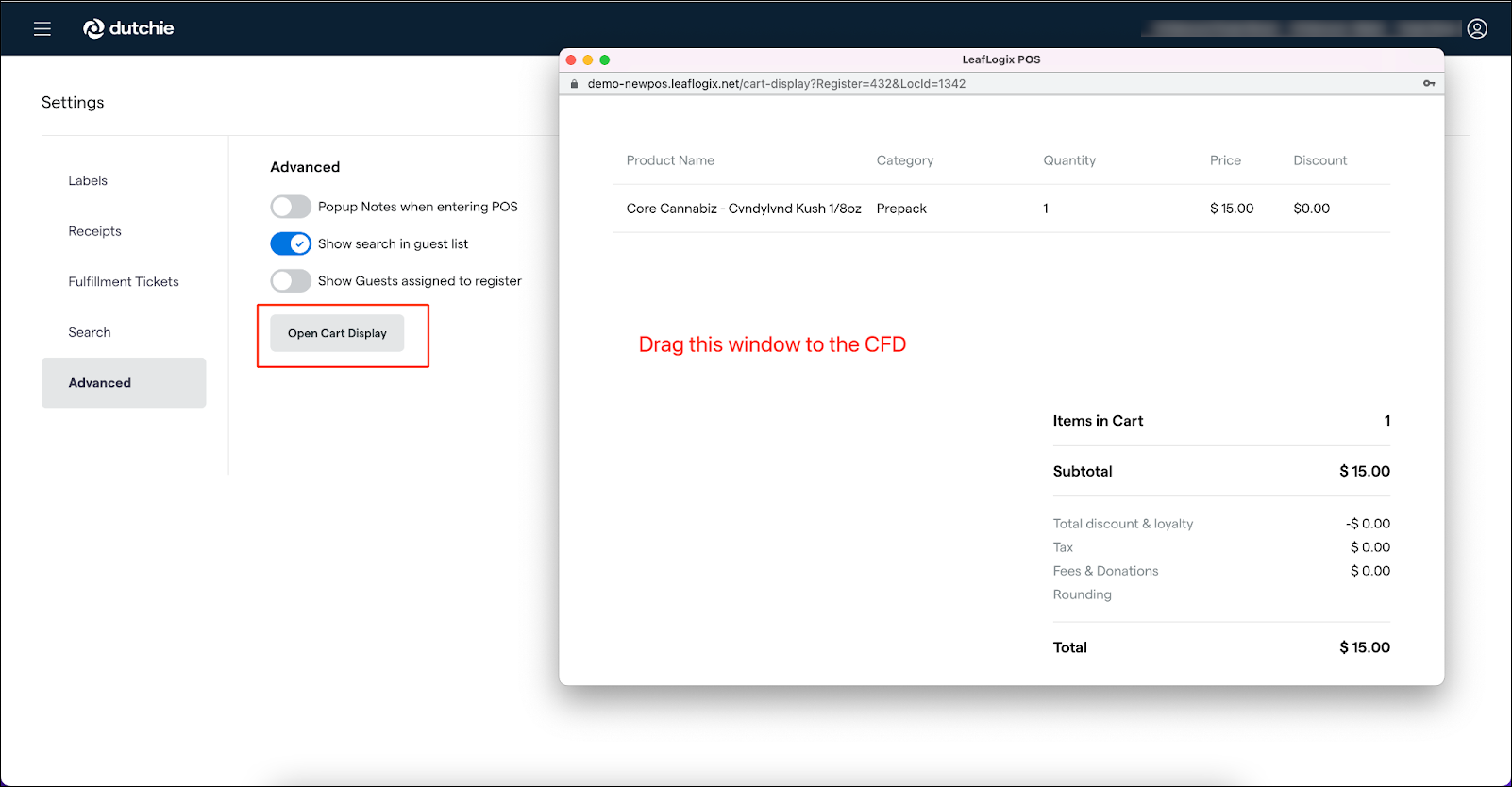 A welcome screen or custom wallpaper appears on the CFD when a user is logged in but not viewing a cart. When a cart is open, the CFD shows cart information.
Display custom wallpaper on the CFD
You can upload a custom wallpaper image to be displayed on the CFD when the register is in an idle state (when a user is logged in but is not viewing a cart). The image appears on all CFDs at your location.
To upload a wallpaper image:
In the Backoffice, go to Settings > Devices.
Select the Customer facing display tab.
Enable the toggle for Custom image.
Click Choose image and upload a file.

Supported file types are JPG and PNG.
Image dimensions should be exactly 1280 pixels by 800 pixels. Images in other dimensions may appear distorted.
In earlier versions of Dutchie POS, the Logo file from Settings > Location was shown on the CFD. If you used this feature and still want to display your logo on the CFD, re-upload your logo file as described above.