Enable Delivery
You can integrate
Cannveya
, Driven, LogicKit or
OnFleet
(includes support for Teams) with Dutchie to be able to deliver to your customers.
Note:
Some states are not permitted to provide delivery services, while others require certain options to be enabled, such as identity pre-verification. Contact
support@dutchie.com
or your success manager for details.
Enable Delivery
From the Dutchie admin screen, go to Settings > Ordering.
Select Delivery.
Select an option for your delivery area - options include Mile Radius, Drawn Zone, and Zip Code.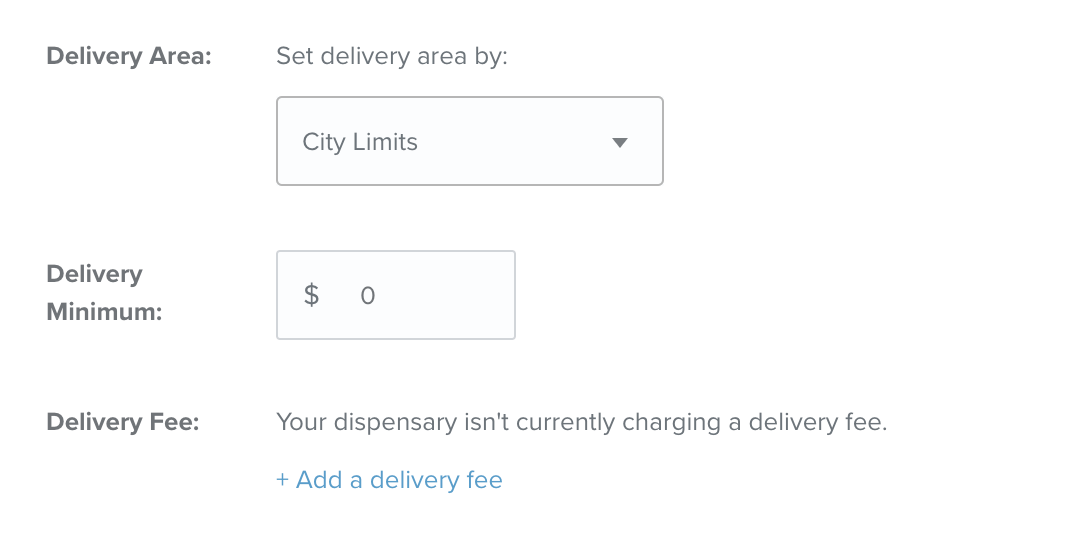 Mile Radius: This is your mile range 'as the crow flies'. Set your Delivery Minimum and Maximum Delivery Distance. Add a delivery fee as desired.
Drawn Zone: Use our polygon tool to select your delivery area street by street. You can have many areas within one zone or several different zones. *It is recommended to save your changes after each drawn zone is entered. To draw your zone, simply click add a zone, click into the map, zoom to the area you want to outline, click and connect the dots. To move over to a new area on the map, click and hold while dragging to a new area.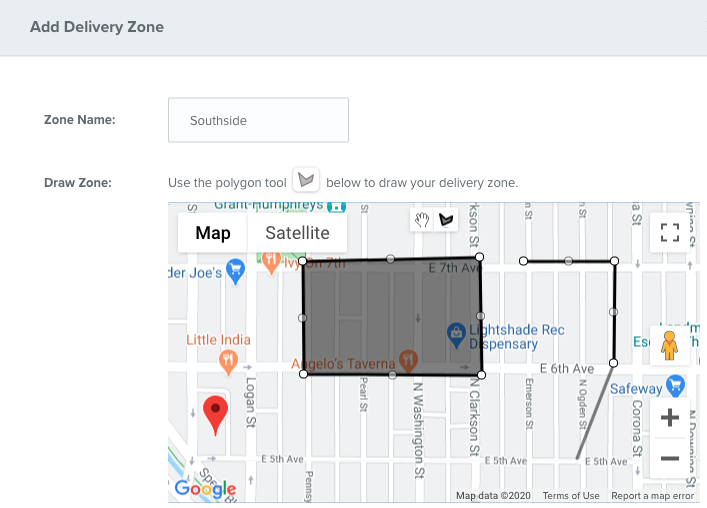 Zip Code: Choosing this option will limit delivery orders to that exact zip code.
Delivery Minimum: The minimum amount that a customer must purchase in order to qualify for delivery. This is Subtotal at checkout, minus any discounts.
4. Set your delivery fee and delivery minimum.
5. Click Publish at the bottom of the page to save all your changes
6. Click on the Hours tab & use the drop-down to select Delivery. Modify your hours as needed!
Note: With After Hours Ordering & Scheduled Ordering enabled, you're able to accept orders after the store closes for the day, to be fulfilled and delivered the following business day.
Customer Experience - Delivery
The customer browses the menu and adds an item to their cart. They are then presented with a popup of which order type. When they select Delivery, they are prompted to enter their address. These steps are to ensure that the customer is within your delivery zone previous to creating a full shopping cart.
If a customer enters an address that is outside your delivery area, they will be presented with an error message:

If a customer enters a commercial address, they will be given a warning message and asked to confirm the address.
During checkout, If the customer did not enter the address when previously asked, they'll need to enter their address. They will also have the option to change their order type if needed.
If the dispensary has enabled the "Require photo ID for delivery" option, the customer must also upload or take a picture of their driver's license or legal identification for verification before they can submit the order. See How to process delivery orders and add delivery drivers for details.
Customer Text Message Updates
1. Successful Order Submitted
When customers finish the ordering process, they'll receive a success text message informing them that their order has been submitted:
"Your order has been successfully submitted! You'll receive another message when it's been confirmed by the store. Your order number is #123456789"
2. Confirmation by Dispensary
When you've clicked the button Confirm on the customer's order, they'll receive another text message:
"Your order #123456789 has been confirmed and is being prepared."
Once you've clicked Start Delivery on the order and assigned the delivery driver, another text message will be sent to the customer:
"Your order #123456789 is on its way! Please have your payment and ID handy for when the order arrives!"