Embed custom carousel sections in your Dutchie Ecommerce menu
This article will walk through the steps to embed a custom carousel section on your dispensary website.

It's important to understand that you have two options when it comes to embedding menus. There is the option to embed your full menu of offerings (often as its own page) or to display a slice of your menu like a certain category, Staff Picks, or Popular Items (often done as a full-width row on an existing webpage).The process for adding either is similar, and each starts in your dispensary's admin page at admin.dutchie.com.
Once logged into admin, navigate to the Settings tab and select Customize from the sub-navigation. Click Embed from the options on the left-hand side of the screen.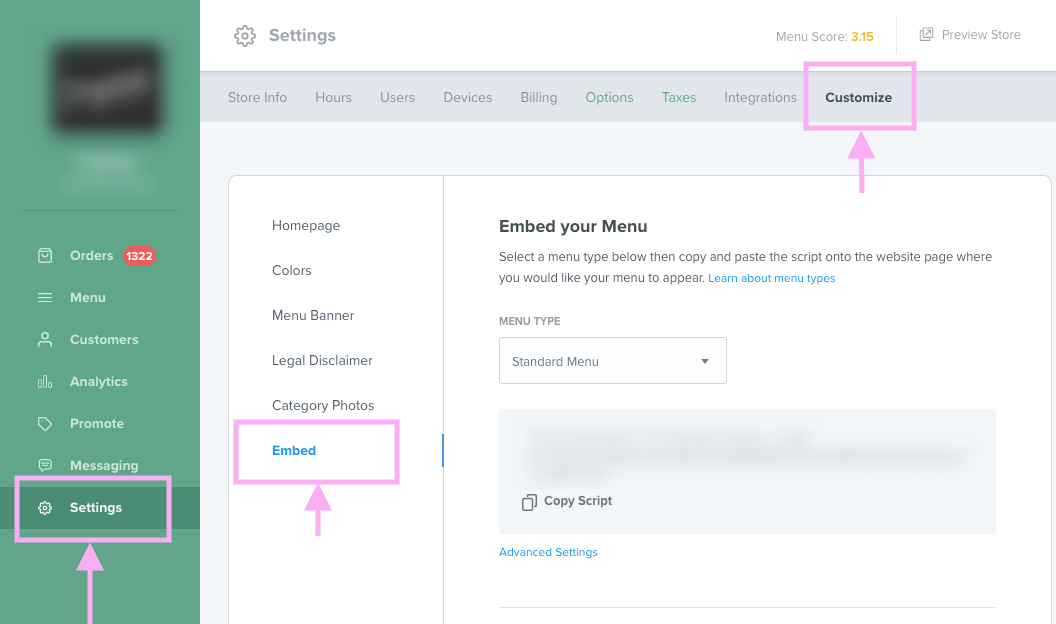 Here you'll see your embed codes.
Embed Homepage Sections
Use the bottom section - Embed Homepage Sections - to add a single carousel to a page of your website.
Before copying out the embed script, you'll first need to define a section using the Homepage option on the left-hand side of the screen.

Under Homepage, use the Add Sections box to create a new carousel that displays a popular category (e.g. edibles), popular subcategory (e.g. gummies), or a brand. Each carousel has a 15-item maximum.

Once you've created the section, return to Embed.

You'll now be able to use the Section dropdown to select a section. By default, these custom carousels will display a title and include a link to your shop's full menu page. Toggle these options using the checkboxes below the dropdown selector.

Be sure to also populate the Menu URL box with the full URL of your website's main menu page. This box must be populated in order for consumers to be able to click through to the menu item from the carousel.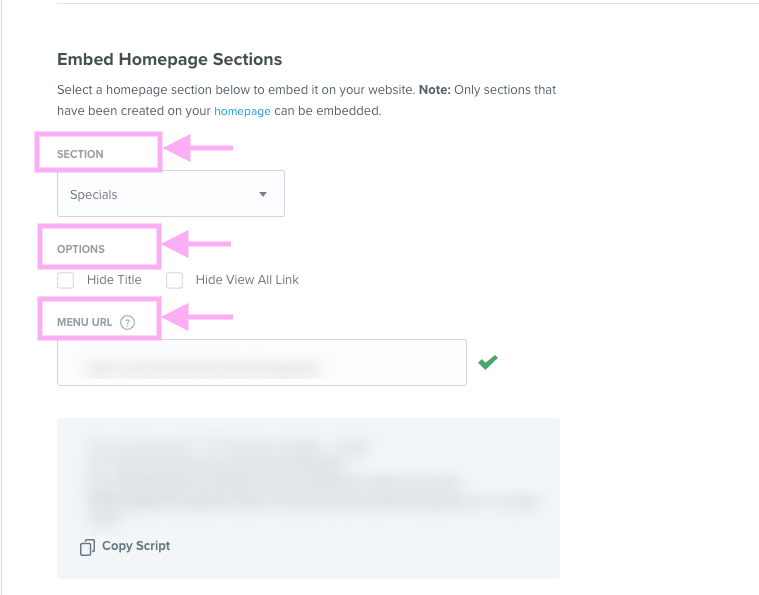 When you're ready to add the carousel to your website, copy the embed script using the Copy Script link, and paste the code into a section of your website. Unlike the full menu option described above, these custom carousels will be added to an existing page with other content. For best results, make sure that the code is added in as its own row.

Adding in the script will prompt a notification to dutchie's Product Support team, who will review the embed and add styles to make sure it is full-width and responsive.