Legacy Weigh Station Troubleshooting
If your Legacy Weigh Station isn't working as expected, try these troubleshooting steps.
Note: The Legacy Weigh Station is supported only in Alaska, Colorado, and Oregon.
Check the connection
The most common reason that the Legacy Weigh Station stops working is due to the printer or scale disconnecting.
Make sure that the physical connection between your devices is secure.
Go to the tablet Settings > Connections and disable both Bluetooth and Location. These features aren't necessary, and turning them off will help reduce power demand and could help prolong the life of the SimulCharge adapter and improve connectivity.
Also in the tablet Settings, run Device Maintenance.
In the Weigh Station app, select the Settings gear .
Look below the devices. If they are Connected, try updating your inventory.
If they are Disconnected, select Remove Printer and/or Remove Scale.
Follow the connection instructions.
Update inventory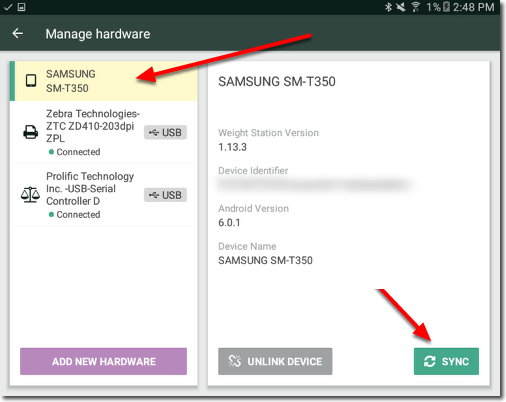 If you recently added inventory and it is not displaying:
Tap the Settings gear .
Select SAMSUNG SM-T350 (your exact model may vary).
Select Sync.
This refreshes the app and and pulls in any new or updated inventory information from your Back Office.