Set up your iPad so you can use it as a Register
Get started with your new Apple iPad. Learn how to set up your device out of the box with the instructions below.
If you've purchased a used/refurbished iPad, make sure the previous owner has signed out of iCloud and restored the device to factory defaults.
Greenbits supports only the following iPad models:

9.7" iPad Air 2
9.7" iPad Pro (1st generation)
9.7" iPad (5th generation)
9.7" iPad (6th generation)
10.2" iPad (7th generation)
10.2" iPad (8th generation)
Overview
iPad (5th generation) shown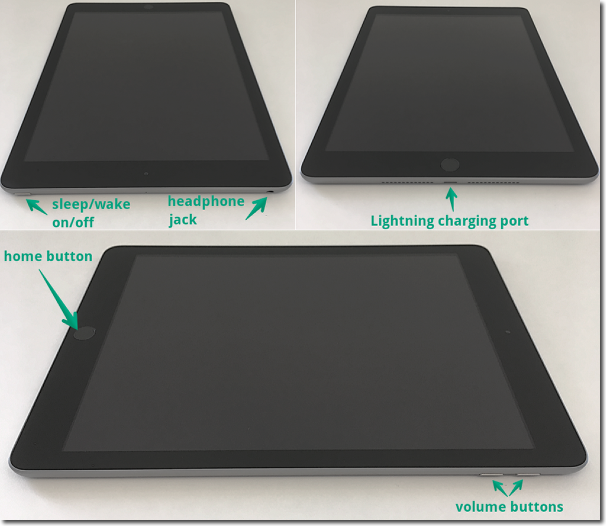 Getting started
The following steps may vary depending on iPad model and software version.
Press and hold the on/off button to turn your iPad on.

You should see "Hello" in several languages.
If not, this means the iPad has been used previously and hasn't been reset. Reset the iPad to factory defaults before proceeding.

Follow the on-screen instructions to select your country and language, and then connect to your Wi-Fi network.
You may be prompted to enable or disable Location Services

.

This is not required for use with Greenbits, and disabling this feature can help limit power usage and extend battery life.
On the other hand, enabling Location Services will allow you to use the Find My app,

which may come in handy in the event that your iPad is lost or stolen. You can also change this setting later.
Set up your Apple ID
Select Set Up as New iPad, then sign in with your Apple ID or create a new Apple ID.

Apple requires you to create an Apple ID in order to access the App Store, which is how you'll download and update the Greenbits Register app.
We recommend creating an Apple ID specifically for your business, using an email address that store managers and supervisors can access. This is important in case staff ever need to reset the Apple ID password or receive verification codes from Apple.
It's very important not to lose track of your Apple ID login information, and at least one staff member with access to your Apple ID login and email address should be present in the store at all times.

Once you've set up an Apple ID on one iPad, use the same Apple ID on all of your other iPads.
Skip Touch ID/Face ID and Passcode options
When prompted to set up Touch ID or Face ID, select Set Up Later.

Touch ID and Face ID are great for personal devices, but unnecessary and inconvenient for an iPad that multiple people will need to use.

When prompted to Create a Passcode

, select

Passcode Options > Don't Use Passcode.

Each member of your staff will have their own 4-digit PIN for the Greenbits Register app, so there's no need to also use a 6-digit PIN to access the iPad itself.
Disable keyboard shortcuts
Apple's keyboard shortcuts feature is not necessary or useful in the Greenbits Register app, and may block certain fields and buttons in the Register app interface. To disable this feature, go to Settings > General > Keyboard and toggle off Shortcuts.
Skip additional features and settings
Depending your iPad model, the next several steps will ask you if you want to set up additional features and services like Siri, Apple Pay, iCloud Keychain, Screen Time, iMessage and FaceTime, and others. For each one, select Set Up Later in Settings, skip, or decline. None of these are needed for your Greenbits iPads.
If prompted to Keep Your iPad Up to Date, select Update Manually.
iCloud Backups
If prompted to enable iCloud Backup, note the following:
All of your important Greenbits data is stored securely in the cloud, not on the iPad. If the iPad is lost or stolen, or stops working, you won't lose any important data, even if you haven't backed up to iCloud.
If you only use this iPad for Greenbits, it's unlikely you'll ever need to back up to iCloud.
Backing up to iCloud can, however, make the process of upgrading to new iPads easier. If you ever need to replace an iPad, backing up the old iPad to iCloud first will allow you to download all of its data and settings to a brand new iPad and skip much of the setup process. mn
Next steps
At this point, you've completed the basic iPad setup process. We recommend also checking out our article on Recommended iPad settings for further tips, then Install the Greenbits Register app and sign in!