Legacy Receipt Printer: TSP650II Bluetooth Setup
This hardware is not recommended. Greenbits recommends the mC-Print3 instead.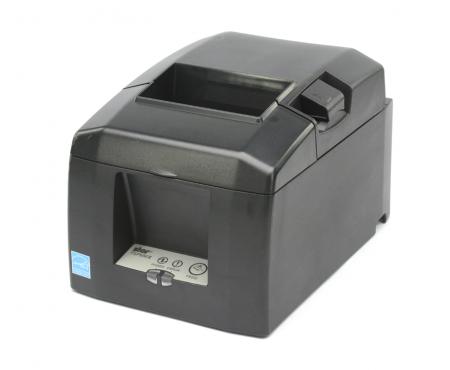 To set up the Star TSP650II Bluetooth receipt printer, follow the steps outlined below or watch the video tutorial.
Connect the printer to power and load paper
Connect the printer to power using the included power cord.
Flip the power switch on the side of the printer.
Open the top cover to load a roll of 3.125"-wide thermal receipt paper, with the lead of the roll toward the front of the printer:

Close the cover securely.
Pair the printer with your iPad
On your iPad's home screen, select Settings.
Select Bluetooth. Confirm that Bluetooth is switched on.
On the back of the printer, press and hold the red PAIR button (1) until the green indicator light (2) begins to flash. Release the PAIR button.

Back on the iPad's Bluetooth menu, tap Star Micronics.
After a few seconds, the status changes to Connected.
The indicator light on the back of the printer changes to blue, which means pairing was successful.
Connect the printer to the cash drawer
Your receipt printer triggers your cash drawer to open automatically each time you complete a sale, even if you don't print a receipt.
Locate the cable that was included with the cash drawer.
Connect the narrower end of this cable to the port on the back of the printer labeled DK.
Connect the wider end of the cable to the corresponding port on the bottom of the cash drawer.
Connect the printer to Greenbits
Sign in to the Register.
Select the menu icon.
Select Settings.
Select Receipt Printer.
Tap Star Micronics.
When prompted to select your printer model, select TSP650II.
Select Test Print to confirm the connection.


If no printers appear in the Receipt Printer Setup menu, force-quit Greenbits and then check this menu again.
Troubleshooting
If you're having difficulty setting up or using your Bluetooth receipt printer, see TSP650II Bluetooth receipt printer troubleshooting or the Star TSP650II Series Hardware Manual.