Print labels from Back Office
This article applies to Greenbits.
In this article, you'll learn how to print package labels and barcode labels from Back Office. You can then scan these labels at the Register.
You can print two types of labels from Back Office:
Package labels for unit-based pre-packaged flower and pre-rolls. These include all the required product information required in your state.

Barcode labels for any item in your inventory. These include a scannable barcode and basic product information like the name, barcode (SKU) number, Package ID or Lot number (if applicable), and price (optional - enable or disable in your Label Settings).
Before you begin
Set up and connect your label printer to the Back Office.
Load the appropriate size label into your printer:
For package labels, use 2.25" by 4" thermal labels (in Nevada, use 4" by 3" thermal labels).
For barcode labels, use 2" by 1" thermal labels.
When changing label rolls, calibrate your printer to the new label size.
Printing Package Labels
Package labels contain all the compliance information required in your state. You can print these labels from Back Office for any unit-based flower items, such as pre-packaged eighths or pre-rolls.
Select a unit-based item from your Products list, then select the Inventory tab.
In the Barcode (SKU) section, find the Barcode (SKU) or package ID you need to print labels for, and click Actions > Print Package Label.


Note: This option is only displayed on unit-based items assigned to product types where the Transaction Limit Type is set to Flower. Package labels for weight-based flower items can be printed from the Register app at the time of sale, or pre-printed from the Weigh Station.

You'll be prompted to specify the number of labels to print. By default, this will match the quantity on hand for the given barcode (SKU)/package, though you can specify any quantity.
Click OK to confirm, and your labels will begin to print. If not, see Back Office label printer troubleshooting.
Labels printing incorrectly or missing information? Check out What to do if your labels are missing information.
Printing Barcode Labels
You can print a barcode label for any barcode (SKU) in your inventory, regardless of product type or whether it is sold in units or by weight.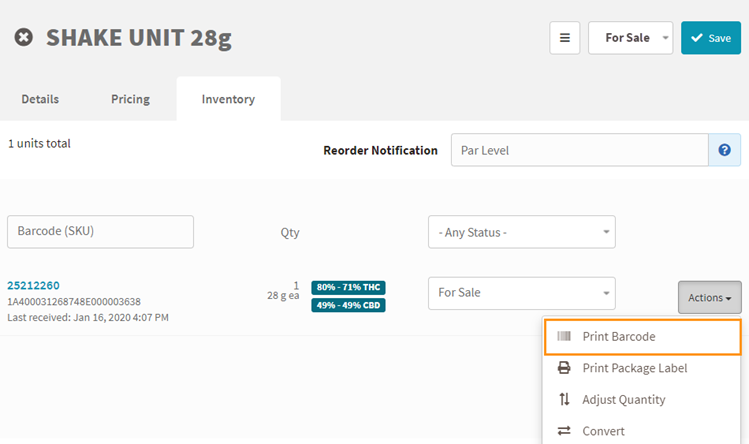 The resulting label will include a barcode you can scan at the register, the barcode (SKU) number, package ID or lot number, price, product name, your store name, and state-specific license information.
You can also print barcode labels from the Incoming Inventory page. Select ... next to an accepted manifest, and then select Print Barcode. Choose which products you want to print barcodes for, or check Select All to print barcodes for all products.
Tips and Recommendations
If you don't want to include prices on your barcode labels, go to Settings > Labels and un-check the Print price on barcode label box.
If you're printing barcode labels for a Metrc package ID, first click Actions > Edit and generate a new barcode (SKU). Metrc package IDs contain too many characters to fit on a barcode label.
If you're weighing bulk flower deli-style from a display jar, print a single barcode label and attach it to the display jar or keep it near the point of sale. A budtender can then scan the barcode instead of having to search for the appropriate barcode (SKU)/package ID.
Print a single barcode label for odd-shaped items such as paraphernalia, frequently sold merchandise, or any other smaller items that you prefer not to label individually, and keep the label near the point of sale so budtenders can the barcode to ring sales quick and easy.
If you find yourself needing to print a package label for a non-flower product type, change the product type to Flower, print your labels, then change the product type back to the appropriate one.
You can also print labels from the convert inventory tool.
If you are using the convert inventory tool to create pre-packs or pre-rolls from bulk flower, before converting be sure to go to Actions > Edit on the bulk barcode (SKU)/package and add all necessary compliance information. That way the compliance information will be automatically transferred to converted barcodes (SKUs).