Reverse a conversion
If you make a mistake while doing a conversion, you can undo it with adjustments and then make the correct conversion.
Go to Inventory > Packages and search for the package ID or go to Inventory > Products and find the barcode (SKU).
Select Actions > Adjust Quantity.
Note in this example that although this pre-roll should be 1 gram per unit, due to the conversion mistake there is 1 unit at 20 grams. At this point, the weight per unit cannot be corrected. Instead, make adjustments to revert the amounts to what they were before the conversion mistake.


Adjust the quantity of the new barcode (SKU) down to zero.

Adjust the quantity of the original barcode (SKU) to the amount it had before the conversion.
In effect, we're not changing the Total quantity on hand

, but rather changing how this 1.7 ounces of flower is distributed among two associated barcodes (SKUs).

Select Entry Error from the Reason

menu, include a

Note

explaining the error and select

OK

.
Learn more about adjustment notes best practices.
Double-check for accuracy, then select Looks Good.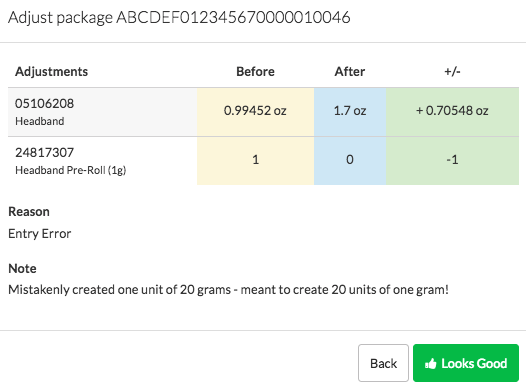 If Prevent Sales When Quantity Reaches 0 is enabled, this will also automatically mark our incorrectly converted barcode (SKU), (now at zero quantity) as Not For Sale, so it won't appear in the Register and cannot be accidentally sold.
If this setting is disabled, be sure to manually mark your incorrectly converted barcode (SKU) as Not For Sale or Archived.
You can now do the conversion again, for the correct amounts.