View and edit converted inventory on the Packages page
You can view and edit the distribution of a package or lot's inventory across multiple barcodes (SKUs) on the Packages page. See a breakdown of the Products created from a package after you convert.
If you just completed a conversion, it may take several minutes before you see it here.
New Products that you create from converting stay connected to the package ID or lot number of the original Product from the manifest, so your cannabis sales are traceable and tracked. For example, when you sell 1 unit of a 1g pre-roll that you created from converting bulk flower, it is reported as a sale of 1 gram in your state traceability system.
In the Back Office, go to Inventory > Packages.
Search for the package you want to review.
Go to Actions > Adjust Quantity.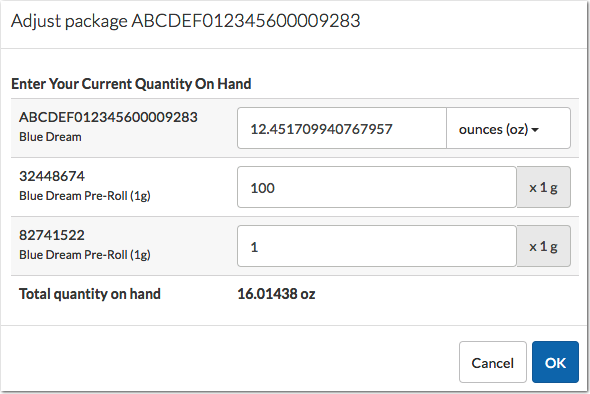 The Total quantity on hand reflects the unit of measure from the original manifest, even if the associated items are in a different unit of measure.
You can also make adjustments from this page.