How to Fix Sales that Failed to Report
This is for stores in states that use Metrc. Find out more about fixing reporting failures on the State Link page.
If you have reporting failures under Sales on these Packages that failed to report, you can fix them by reassigning the sales to a different Package.
Action you need to take
If someone at your store fixed this reporting failure outside of Greenbits based on advice from Metrc, follow these directions to skip the reporting failure instead.
Contact your state cannabis agency, and explain that you sold from a Package that is no longer in your Metrc account.
If your state cannabis agency requests it, open a ticket with Metrc.
Once you hear back rom them, go to the Greenbits State Link page and follow the onscreen instructions.
Reassign Packages on the State Link page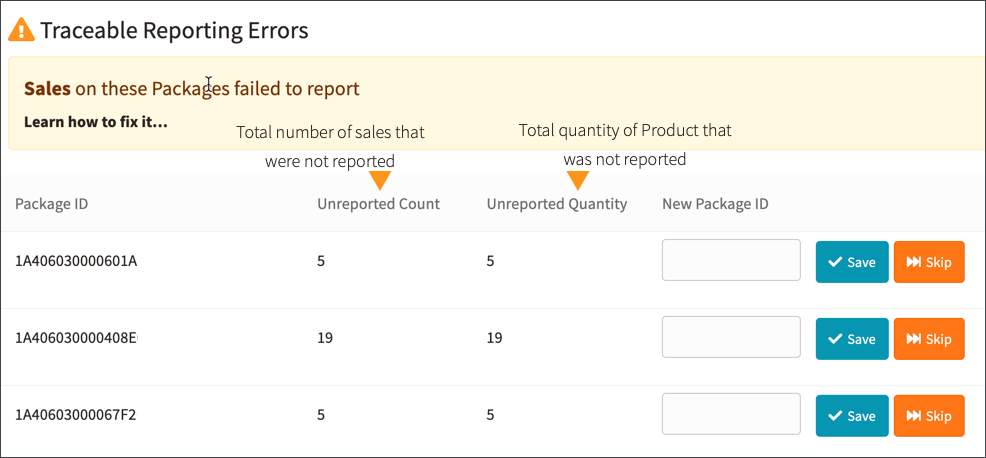 From the State Link page in the Back Office, you can reassign the sales that did not report to an existing Package ID that has the same unit of measure.
Based on guidance from your state cannabis agency, enter the Package ID that you want to reassign these sales to, under New Package ID.
Select Save.
Repeat for all line items on this page.
Why did this happen?
Reason for reporting failure
How to keep this from happening again
Your store made sales on a Package that was already transferred out of your Metrc account.

Before every transfer:

This Package is Inactive in Metrc. This happens when you Finish a Package in Metrc instead of Closing it in Greenbits.
Your state agency put this Package On Hold. This is either because there weren't any testing results or because this Package is part of an investigation.

If your state agency reaches out to tell you they placed your Package On Hold, mark it as Not For Sale in Greenbits immediately.
Wait to hear from your state agency about how to move forward.

Someone at your store Discontinued this Package in Metrc, typically on the advice of Metrc.