Inventory audits: unit-based inventory
For more information, see Inventory audits: overview and best practices.
If you prefer to hand-count unit-based inventory instead of scanning, follow the weight-based inventory instructions. Instead of entering weight into the spreadsheet, enter the number of units that you count.
Schedule your audit
Before you continue, you should have already scheduled your audit.
Prepare your audit document and your scanner
You can use any program that can save .txt files and your iPad or a computer. If you use a computer instead of an iPad, you can use any scanner that is compatible with the computer. Greenbits recommends using Google Docs on an iPad and your Socket Mobile scanner.
Do not use a spreadsheet for unit-based inventory audits.
If you need to use the keyboard on your iPad, double-tap the power button on the scanner.
Scan all items in your audit one by one
Scan every item in your store that matches the Vendor and/or Product Type that you are auditing. As you scan items, barcodes (SKUs) appear in your text document.

The idea is that if you have 20 units of a given barcode (SKU), for example, you should have the same barcode (SKU) repeated in the document 20 times, as in the example below.
The barcode (SKU) must be an exact match with the barcodes (SKUs) in Greenbits, including capitalization. This is because when you upload this document Greenbits will count how many times each barcode (SKU) is repeated, and compare that count against the quantity reflected in Back Office.

When you're finished scanning, note the exact time of day.
Tap the check mark to save your audit in Google Docs. Greenbits recommends including the date and the Product Types in the name of the doc.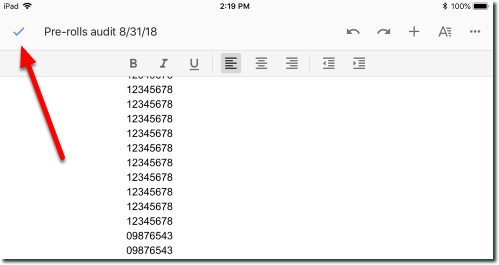 Save or download the file to your computer
If you are using a computer, save the file as a .txt file. Do not save into any other format.
For Google Docs, open a web browser on your computer, go to docs.google.com, and log in.
Find and open your audit document. You may have to look under Recent Documents to find it.
Select File > Download as > Plain Text (.txt).
Upload and confirm your audit
To finish your audit, upload and confirm the information you collected during you audit.
Washington: When auditing inventory where the same barcode (SKU) is used multiple times, the counts that are recording when scanning the items will be distributed on the Audit Results page in a particular way when you upload your audit.