Legacy Reports Overview
This article applies to Greenbits.
This article describes Greenbits' legacy reporting features. Try using Actionable Insights for more enhanced reporting.
Greenbits offers reporting tools to help you gain insight into your daily operations and long-term trends.
Your county or state may require you to upload csv files to a system other than your state's traceability system. If they do, you can create an Advanced report for the information your county or state needs. If you need to change the information in your report before you upload it, follow our spreadsheet help.
Sales Reports
Main article: Monitor your sales with Sales Summary Reports
The Sales Report and Account Sales Summary Report provide a general overview of your sales over a specified time frame.
Gross Sales: The total of sales, before adding taxes, and before subtracting any discounts or returns.
Discounts: Total value of discounts applied.
Returns: Total value of all product returns. Note: this does not include voided sales.
Net Sales: Gross Sales minus Discounts and Returns, before tax is applied.
Each of the above is further broken down by Marijuana, which is the total of all marijuana products sold, and Paraphernalia, which is the total of all other product sales.
The next section shows a breakdown of taxes collected. If you have multiple tax rates, you'll see a total collected for each, as well as a grand total of all taxes collected.
The bottom two sections show:
Net Tender Breakdown: the net total of all funds collected, separated by payment type. Taxes, discounts, and returns are all factored into these totals.
Paid In/Out: Total amounts paid in, paid out, and dropped from all registers during the specified time frame.
Monthly Tax Report
The Monthly Tax Report shows applicable sales, tax collected, and tax owed for each tax rate you've set up. By default, you'll see the most recently ended month. Select any past month and year to view historical tax breakdowns.
Due to rounding, "Tax Collected" and "Tax Owed" will usually vary by a small amount.
Weekly Sales Report
The Weekly Sales report is a great tool for analyzing your sales patterns and trends by day of the week and by time of day. This data is often useful for determining optimal staff scheduling. You can run this report for a specific week, or see aggregate data for multiple weeks.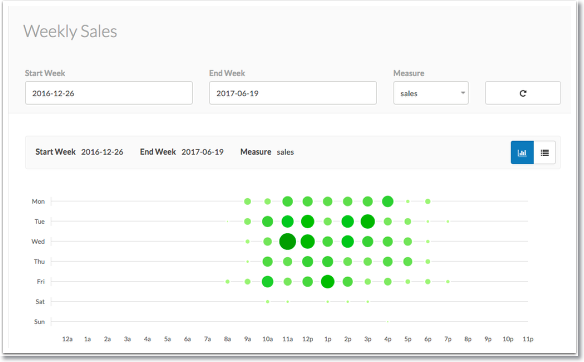 Start by selecting a Start Week and End Week. For the purposes of this report, a week is defined as Monday through Sunday, and any date you select will automatically revert to the preceding Monday.
Next, select a "Measure":
Units: total number of units sold. Note: this will exclude all products sold by weight.
Weight: total product weight sold. Note: this will exclude all products sold by unit/each.
Dollars: total value of sales in dollars.
Sales: total number of transactions.
Average sale: total value of sales divided by total number of transactions, by hour and by day of week.
Click the refresh button at the far right to refresh the report based on your selections. By default you'll see a "heat map" showing a visual representation of your sales. To see specific amounts, toggle the list view.

Inventory Value Report
The Inventory Value Report will be retired after March 1st, 2021. You should use the Inventory on Hand Insight instead.
The Inventory Value Report provides a quick reference for total retail and wholesale value by product name.
Retail Value = sell price x quantity on hand. If your store uses exclusive taxes, this is based on the pre-tax price. If your store uses inclusive taxes, this is based on the tax-inclusive price.
Wholesale Value = average cost x quantity on hand. In order to account for cost fluctuations over time, average cost is calculated based on the cost per unit entered on each individual package or lot when it was accepted into your inventory, and is weighted by the number of units accepted.
To quickly view the value of a specific product or products of a certain type, search by name or filter the list as needed.
For a more comprehensive look at your inventory value that can be exported to a spreadsheet, go to Other Reports and run the Inventory Value Report listed at the top of the page, using the same date for Start Date and End Date. This report lists each package/lot separately rather than grouping by product name.
Further reading: Analyze current and past inventory with the Inventory Value Report
Reorder Report
The Reorder Report will be retired after March 1st, 2021. You should use the Reorder Suggestions Insight instead.
Need to know what products need to be re-ordered soon, or an estimate of how long current stock levels will last? Consult the Reorder Report. For more information, read Reorder Report: Estimate Stock Levels.
Other Reports
The Other Reports section includes the following spreadsheet-based reports:
Inventory Value Report: a more comprehensive version of the Inventory Value Report detailed above. This version organizes your inventory by package ID or lot number rather than product name. See also: Analyze current and past inventory with the Inventory Value Report.
Profit Report: shows a comparison of sales with wholesale value, organized by day and by SKU. See also: Make better business decisions with the Profit Report.
Re-order Report: a more detailed version of the Reorder Report detailed above showing sales by unit and by weight.
Manifest Summary Report: shows all incoming manifests that were accepted over a specified time frame, including total cost and retail value by manifest. This report does not include product-level details.
Detailed Manifest Report: shows all incoming inventory accepted over a specified time frame, broken down by SKU. See also: Find received inventory information with manifest reports
Paid In/Out Report: contains all pay ins and pay outs entered at the register over a specified time frame.
Shift Report: contains all shift information over a specified time frame. For details of a specific shift, see the Shifts section below.
Inventory Adjustment Report: shows all quantity adjustments performed in the Back Office over a specified time frame.
Quarterly Tax Report (Oregon stores only): as required by the state of Oregon, this report compiles total quantity and dollar-amount sold for both medical and recreational sales, separated by traceability type. To ensure this report is accurate, check to make sure your Transaction Limit Types are set correctly for each of your Product Types.
Shifts

Detailed shift information is available from the Shifts area. Shifts are organized chronologically by default, and this report includes options for search for a specific shift by Employee name, Register name, and Shift Receipt ID. You can also filter by shift status such as in the example above, wher we're viewing only open shifts. Click on any shift to view further details.
After clicking a shift, you'll see a screen like the above example, showing the following:
Opening Amount: the amount of starting cash entered when the shift was opened in the Register app.
Net Cash: total amount of cash taken in during this shift (scroll down for a detailed breakdown of this total).
Paid Out and Paid In: total amounts paid out/in during this shift. Click the green totals to view a list of each individual amount paid out or paid in.
Current Amount: total of Opening Amount, Net Cash, Paid Out, and Paid In. This is the expected total amount of cash that should currently be in the till.
The Sales Breakdown section shows a detailed account of the "Net Sales" figure shown above.
In the final section of the Shift report you'll find a breakdown of the different payment types and taxes applied during this shift.
Click any of the green totals over to the right to view a full list of individual transactions for that payment type.
You can also edit the Opening Amount, Drop Amount, and Left In Drawer amounts on any closed shift by opening the shift report and clicking Edit near the top right.
The Budtender Performance section of the Reports area includes several pre-built sales reports to help you analyze sales by employee:
Budtender Performance Snapshot: provides an overall summary of sales by employee for any specified time frame including number of transactions, total value of sales, and the average amount per sale. You can view this information in three different ways. The first is a "heat map" showing a visual representation of each employee's sales. Hover your cursor over any of the green circles to see further details: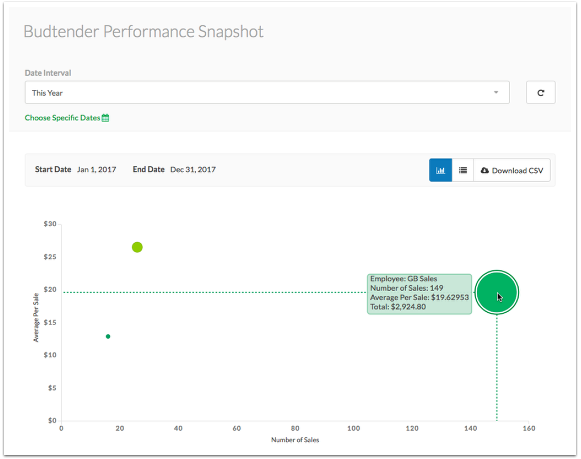 To see this information in list form instead, click the list view button or select Download CSV to download it to a spreadsheet file.
Discounts by Budtender: track your employees' discount usage to ensure discounts are being given appropriately. By default this report shows the total value of discounts applied, the total value of sales discounts were applied to, and also the value of returns where the discount was applied to the original sale.
Tip: to see the number of times each discount was applied, at the upper right change the "Measure" field to "sales" and click the refresh button.
You'll find similar functionality and options for the following Budtender Performance reports as well:
Sales & Spending Reports
Isolate more specific aspects of your sales using the following reports:
Sales by Time: compare sales by day, week, month, quarter, or year, over any time period you specify. For example, if you'd like to see how you're doing this quarter compared to last quarter, set your Date Interval to This Year, and set the By field to Quarter.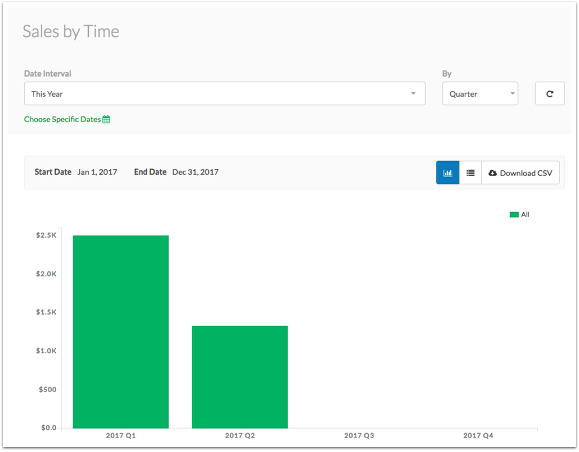 As with other time-based reports, you can toggle between a graph view or a list view, or export to a CSV spreadsheet file using the buttons shown below.
Other reports available in this section include:
Recreational Sales: sales overview reflecting only recreational sales.
"Best" reports: sales broken down by variable, ranked from best performing to least performing.
By default, these reports are ranked by dollar amount. Optionally, change the Measure field to units or weight.
Or re-sort the list by clicking the Number of Sales or Average Per Sale column headers: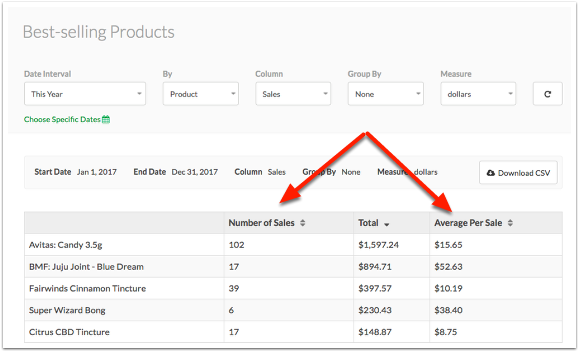 Medical Sales & Spending reports: these automatically exclude all recreational sales, and function much the same way as the other reports described above:
Not finding quite what you're looking for in the reports listed above? Check out our article on Advanced Reports and learn how to create your own custom reports.