Void sales at the Register
If you need to void a sale, you can do it at the Register. You may need to void a sale because you have made a mistake or because an order has changed. For example, an order may have changed from a pre-order to delivery or from a sale to delivery. You must void changed orders because deliveries and sales are reported differently to Metrc.
You need Alter Sales permissions to process voids.

Voids apply to an entire sale. Process a return if you only need to remove a specific item or items from a sale.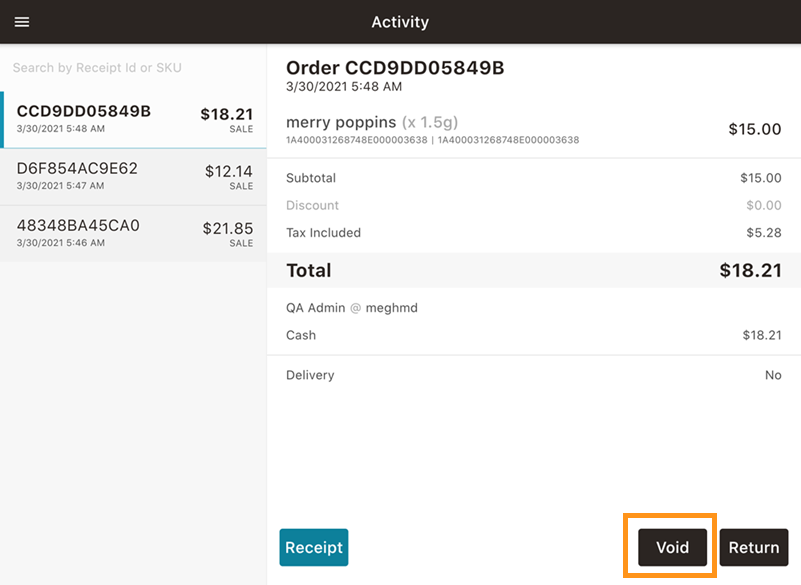 Open the Register app.
Tap the side menu and select Activity.
Find the original sale in the Activity list. If it's not near the top of the list, there are a few different ways you can search for it:

Scan the barcode at the bottom of the receipt.
Enter the Receipt ID. If you don't have the receipt, ask someone with Back Office access to look it up in the customer's transaction history.
Tap the Search by SKU toggle and enter the Barcode (SKU) of an item from the sale to bring up a list of sales that included that Barcode (SKU).

Select the sale you want to void.
Select Void.
Enter a note and Confirm.
The void transaction displays in the Activity list.
Once you void a sale on the Register, Greenbits automatically adjusts your inventory and your current drawer's expected cash total to reflect the void.