Print package labels from the Legacy Weigh Station
Follow this process for the Weigh Station 2.0.

For stores in Oregon, you cannot print labels for deli-style Hemp sales from the Weigh Station.
If your store is in Alaska, Colorado, or Oregon, you can use the Weigh Station to weigh and print package labels for deli-style flower separate from the Register. After you weigh and print package labels for flower, your customer can continue to shop for edibles or non-cannabis items. When the customer is ready to check out, you scan the QR code from the Weigh Station label at the Register.
Set up the menu on your Weigh Station so you can weigh flower deli-style, even while offline.
Weigh flower and print labels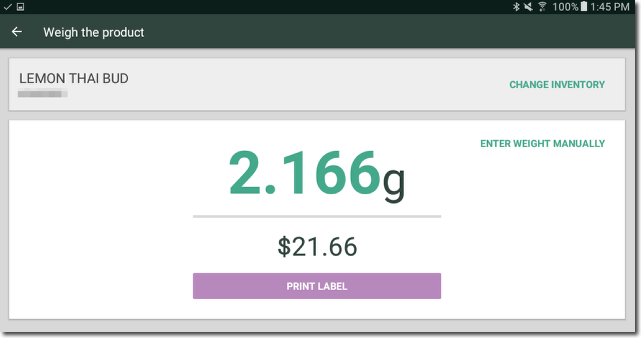 From the Weigh Station home page, select the tile for the product you want to weigh.
Place the product on the scale. The weight reading from the scale automatically displays in the app.
If you want to change the barcode (SKU) or package for the product being weighed, select Change Inventory and select a different barcode (SKU)/package.

Using the Weigh Station does not affect inventory quantities. Greenbits updates the quantity in your inventory after you scan the label at the Register.

With the flower still on the scale, tap Print Label.
The printer generates a label based on the default template for your state or your custom template.
What to do if the scale becomes disconnected while weighing
If the scale becomes disconnected from the tablet, select Enter Weight Manually. Choose the unit of measure using the dropdown, and manually enter the weight on the screen. The decimal is inserted automatically with three decimal places behind it.
For example:
For 1.05 grams, enter 1050.
For 3.5 grams, enter 3500.
For 14 grams, enter 14000.
Are you having issues with the Weigh Station?
Check out the article on troubleshooting the weigh station.