Use Customer Groups to Set Taxes
Customer Groups organize your customers into types based on what taxes they should pay. If your state taxes different patient types at different rates, you can set taxes for each type of patient. When you add a customer to Greenbits, you select the Customer Group they belong to, so taxes will automatically apply at the Register.
For example, California has different tax rates for MMIC patients and Physician Recommendation patients. Greenbits includes options for both of those types of patients when setting taxes and creating patients. The examples in the images here are specific to California. You will see the patient types specific to your state in your Back Office.
There are three stages to using Customer Groups:
Set up taxes for Customer Groups
When you set up a tax, select which Customer Groups should pay taxes for each Product Type.
In the Back Office, go to Settings > Taxes.
If you are adding a new tax, select Add Tax. If not, select an existing tax.
For every Product Type, check the box under any Customer Groups that should pay taxes. Leave the box unchecked for any Customer Groups that should not pay taxes.
Repeat this for all of your taxes.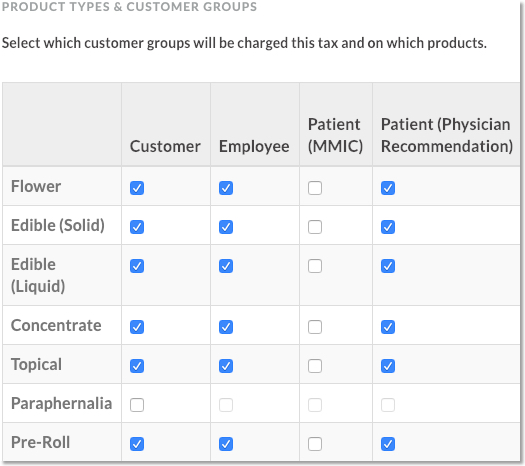 Select a Customer Group when creating a customer or patient
Select Customer for a recreational/adult-use customer.
Select Patient for a person with a valid medical cannabis card. Some states have several patient types. You won't be able to edit this later, so be careful to select the correct one.
Select Employee if the person you are adding is also an employee at your store. You can use this to give employee discounts and, in certain states, distribute cannabis samples.

Assign a customer or patient at the Register
When you assign a customer or patient to a sale at the Register, Greenbits automatically applies the appropriate taxes based on your selections on the Taxes page and the Customer Group of the customer.
What else should I know about Customer Groups?
Customer Groups also affect transaction limits. When you add a person to Greenbits as a customer, Greenbits applies recreational limits when you sell to them. When you add a person as a patient, Greenbits applies medical limits when you sell to them.