Manage the cash in your drawer using Paid In and Paid Out
You must have the Create paid in and out permission to do this.
During your shift, you may need to add (Paid In) or subtract (Paid Out) an amount from your drawer, for example:
Adding more quarters or one-dollar bills so you can make change.
Taking small amounts from a drawer for use as petty cash.
Making a mid-shift cash drop to limit the amount of cash in the drawer at any given time.
The way you pay in and pay out from your cash drawer is different depending on which version of the Register you are using.
Create Paid In/Paid Outs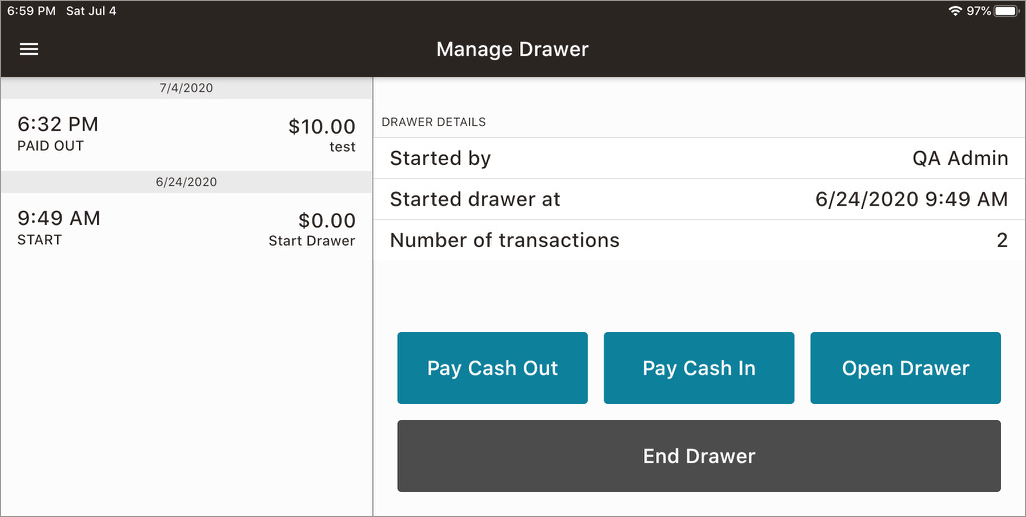 In the Register, tap the menu icon.
Select Manage Drawer.
Select Pay Cash Out to remove cash from your drawer or Pay Cash In to add cash in.

Use the keypad to enter the amount you are removing or adding to your drawer.
Tap the note field to enter information about why you are removing or adding cash to your drawer.
Select Confirm. A receipt prints automatically for each Paid In and Paid Out.
You can also add or edit a Paid In or Paid Out in Back Office.