Set up a Loyalty Program
With a Loyalty Program, customers earn points for purchases made at any of your store locations. Customers can then redeem these points for discounts on future purchases.
You need Manage Loyalty Program, Rewards, and Points permissions to set up a Loyalty Program.
Turn on the Loyalty Program feature
Go to Marketing > Loyalty Program.

Select a loyalty program type. You can choose:

Points per Dollar - customers get a set number of points for every whole dollar they spend, including tax. Cents are rounded off.
Points per Order - customers get a set number of points for each purchase they make, regardless of how much they spend.

Enter the # of points you want to award customers for each dollar or order.

Customers only earn points if you remember to assign their profile to the sale first!

Select Save. Customers immediately begin earning points for their purchases. Loyalty points never expire, and there is no limit to the number of points a customer can earn.
To edit your Loyalty Program settings later, select the pencil icon:
Create Loyalty Rewards
Now that your customers are earning points, create Loyalty Rewards so they can redeem their points.
Creating a Loyalty Reward is similar to creating a Discount Plan. The key difference is that Loyalty Rewards have a Loyalty Points Required field, which is the number of points the customer needs to "spend" to get the Loyalty Reward.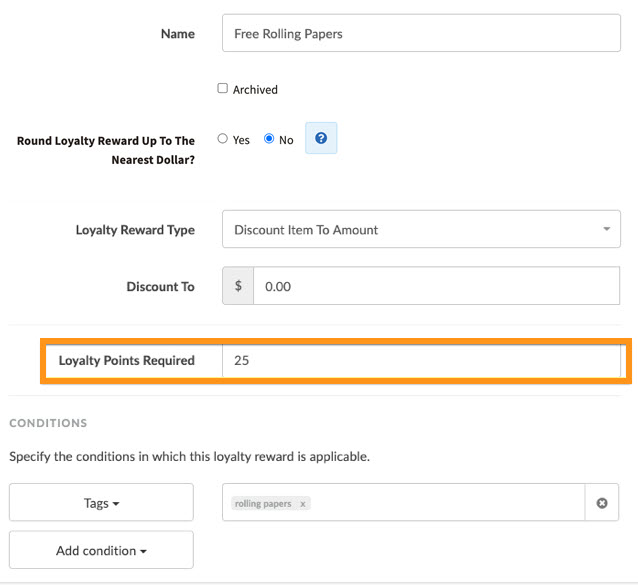 Edit or archive Loyalty Rewards
To edit or archive a Loyalty Reward:
Go to Marketing > Loyalty Program.
Select a reward from the list.

Make edits as needed.


To disable the Loyalty Reward, select Archived. The Loyalty Reward will no longer appear on the Register.
To view or re-enable a disabled Loyalty Reward, select Show Archived.

Save your changes.
What's next?