How to set up frequently used discounts
Simple versus Advanced Discounts
You can set up discounts in Greenbits with simplicity or add a lot of conditions for a more complex discount structure. We define these two setups in two ways:
Simple Discounts:
A simple discount doesn't contain any conditions and can be used to auto-apply very easily.
Advanced Discounts:
Advanced discounts take a little bit more work. You can include conditions for item weight, tags, and product types.
Tips to take your discounts to the next level
Familiarize yourself with local/state laws on discounting marijuana.
Discounts can apply to the whole order or a specific item.
Whole Order: Discount by Percent; Discount Sale by Amount
Specific Item: Discount Item by Amount; Discount Item to Amount
Both: Enter at Register
Check which discounts are applied by tapping the Discount button on the Register App
Check which item discounts are applied by tapping that item on the Register App.
Name your discount in a way that anyone could get started on the register and know exactly what the discount should be applied to.
Use tags on specific items to target your discounts. Tags need to be added to the product and discount plans.
Auto-Apply discounts work best as Simple discounts. When used with Advanced discounts they work best when targeted toward all items of a specific "Product Type", "Brand", "Item Weight" or with a specific "Tag".
You have the option to apply more than one discount to items and orders.
You can apply a discount on the subtotal of an already discounted item.
As a backup, provide your Budtenders with a list of your current discounts. Include quantities if it's a quantity based discount.
If a discount isn't applying, make sure to check if your item can be discounted. You define this on each product (Click on Product > Pricing Tab > Check "Allow this product to be discounted":
Buy One Get One (BOGO) Discounts
Here are a few recipes to give you an idea of how to set up and then ring up buy x get y discounts on your register.
TIPS & TRICKS: Name your discount a really descriptive name. It'll serve as a reminder for what this discount should be applied to. Don't make the name too long or your BudTender won't be able to read it on the register.
Simple BOGO Discount [Auto-Apply: No]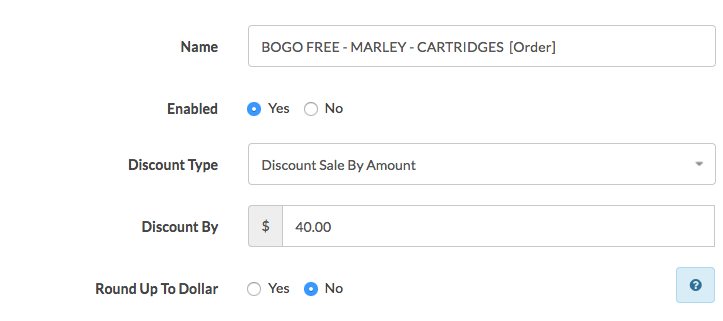 To Apply it on the Register:
Add all the items to the register.
Tap the item to apply the discount.
Select the discount.
The item will be discounted by the amount you saved in the back office.
Apply the discount to each item you want to discount. Ex. If you would like to run a buy 2 get 1 free promotion, add 3 items to the register and apply the discount to one item.
TIPS & TRICKS - Create tiered discounts to discount bundles of products.

Ex. Create a discount for each tier. One tier might be $40 off for the purchase of 2 or more cartridges, while another tier is $80 for 4 or more cartridges. You'll create 2 separate discounts and just apply them based on how many cartridges are in the register.
Manually enter the BOGO Discount at the time of sale [ Auto-Apply: No]
If you just want your Budtenders to be able to be to enter the discount at register.
Name the discount something meaningful.
Choose Enter At Register as a setting and save.
To Apply it on the Register:
Add all the items to the register.
Tap the discount button.
Select the discount.
Choose the type of discount you want to apply. Your options are percent%, discount by an amount or discount to amount.
Type in the discount amount.
Enter any notes under the the discount amount and hit the check mark. (optional)
The items will be discounted by the percent or amount you entered.
BOGO Discount on the same Barcode (SKU) [Auto-Apply: Yes]
Can I create an auto-apply to Bogo on mix and match items from the same brand?
Unfortunately, not yet. While this may be something we build in the future, you can review the recipes above for workarounds.
But for quantities of the same Barcode (SKU) you can create BOGOs that auto apply.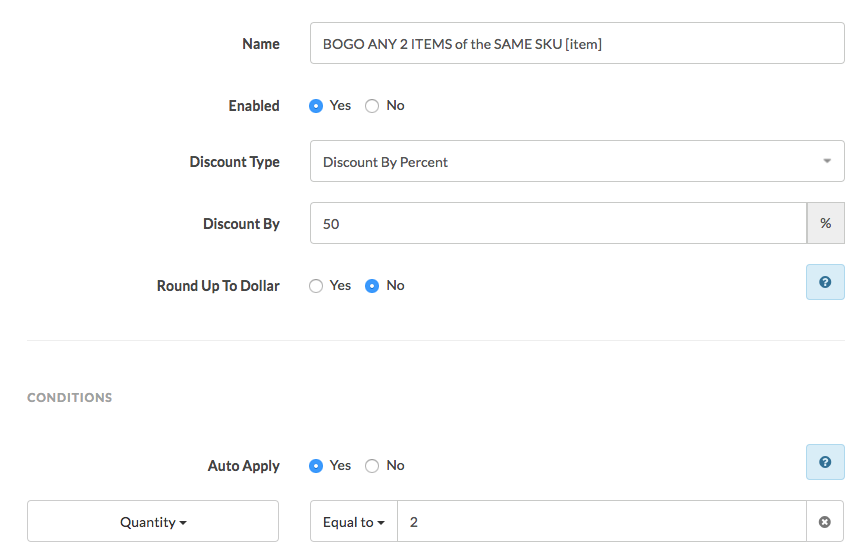 Apply it on the Register:
Add the same barcode (SKU) to the register 2 times.
The discount will be applied automatically.
TIPS & TRICKS: This discount also works well without auto-apply. Just apply it at the end of the order.
Advanced BOGO Discount [ Auto-Apply: No]
Advanced discounts allow you to get more specific by setting conditions. Say you have 2 different $40 cartridges, tag the one you want to discount. The cartridge without the tag won't be discounted.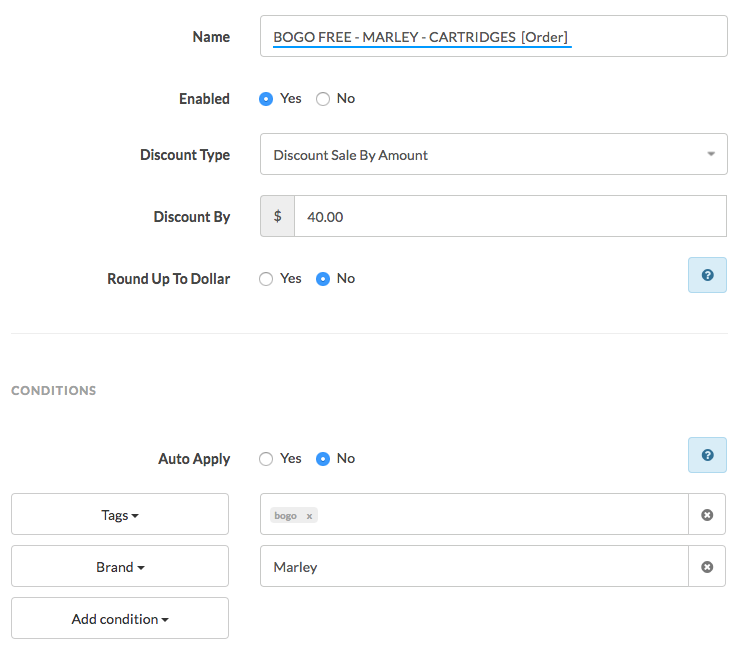 Save time with Automatic Discounts by Product Type
Do you have a discount like "10% off all Pre-Rolls" on specific days? Save time by using auto-apply discounts by product type.
Discount a Specific Product Type Automatically [ Auto-Apply: Yes]
This discount will take 10% off of all pre-rolls added to an order. If you don't want your discount to produce any loose change you can round up to the nearest dollar.
TIPS & TRICKS - If it's only for certain pre-rolls, you can Add tags to the product and add a condition for this tag to the discount plan to target specific pre-rolls.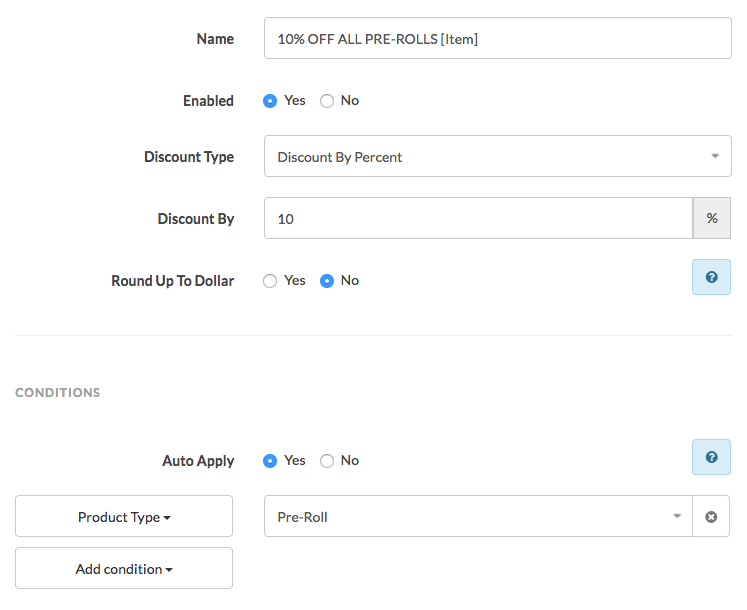 Apply it on the register:
Add all the items to the register.
Each Pre-roll will automatically be discounted. No need to select a discount.
TIPS & TRICKS - Get fancy by adding the Time Condition to create Happy Hour Specials.
Happy Hour Specials
Run a Happy Hour Special/Flash Sale [ Auto-Apply: Yes]
This discount will take 20% off of all 1/8ths with the tag Phat Tuesday on 9/5 between 2:20pm and 4:20pm . A promotion like this would need to be edited each Tuesday. When choosing tags make them meaningful. Another good tag for this would have been "Bottom Shelf".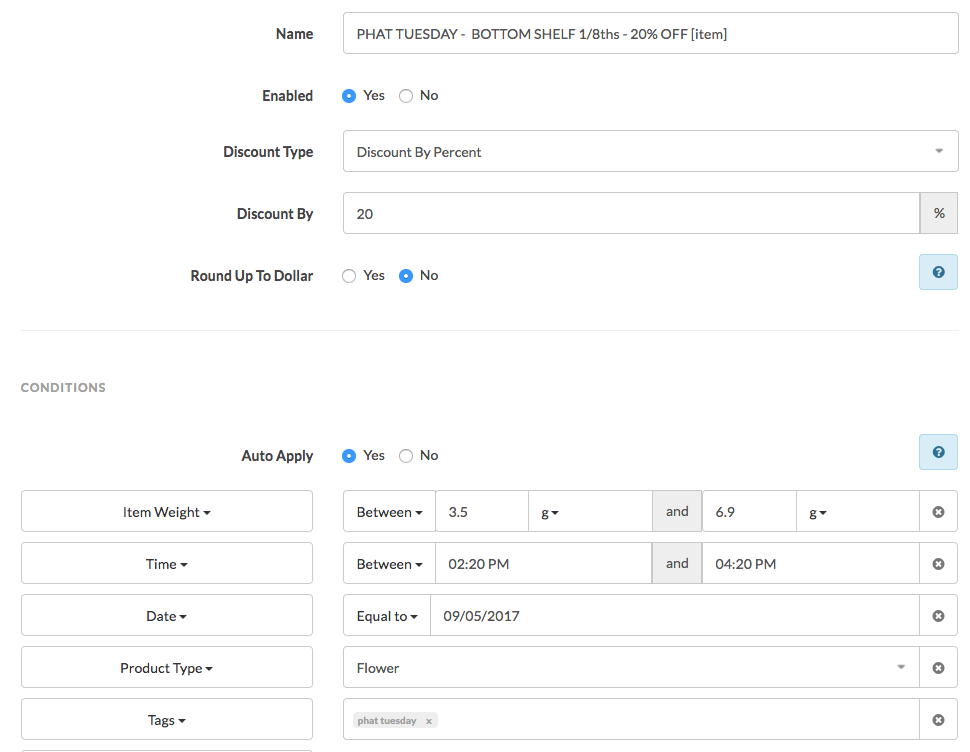 Apply it on the register:
Add all the items to the register.
Each 1/8th with the tags you added will automatically apply a 20% discount.
TIPS & TRICKS - This is also useful for setting up discounts on tiered products. Set up one discount for each weight tier. Create custom percent or dollar discounts based on the weight of the item.
Employee Discounts
Employee Discounts [ Auto-Apply: Yes]
Create a discount for your employees. You can make sure that it only applies to an Employee by choosing the type of customer the discount should apply to or it as a regular discount and rely on your employees to apply it only to their coworkers. This is one that would also work well as an auto-applied discount.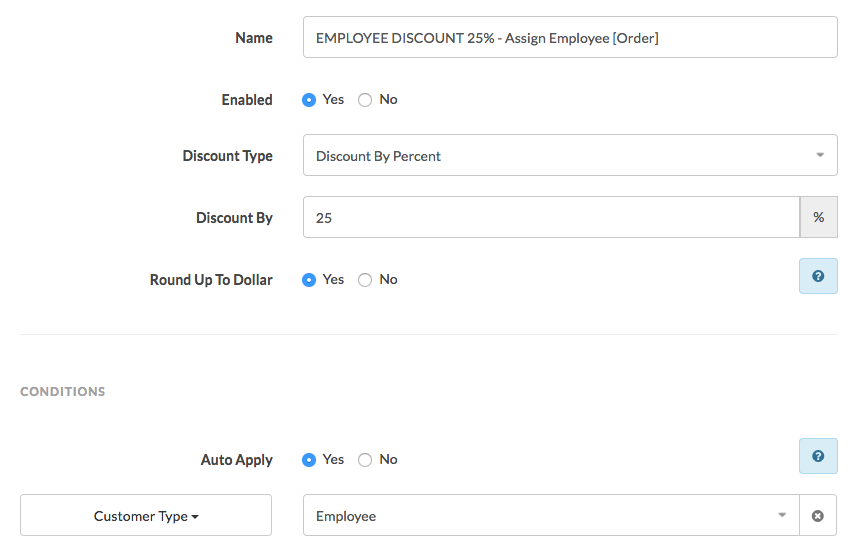 Apply it on the register:
Add the items on the register.
Tap the Customer button.
Assign the Employee by tapping the Employee Only button.
The discount will automatically apply the the whole order or item depending on the options you chose in the back office.
TIPS & TRICKS - This works really well if you only want Employees to receive discounts on certain items. Set the discount up to discount on the Item. Tag each item you would like employees to have a discount on.

Users with the Person Group Updates for Employees permission can convert former employees' profiles to regular customer or patient profiles to prevent them from continuing to receive employee discounts and samples.
Apply your discounts to the discounted subtotal
By default, Greenbits will apply any whole order discounts on top of any item-specific discounts. If you want to prevent discounts on top of your other discounts, you have a few workarounds below.
Discount on the Subtotal of a previously applied discount [Auto-Apply: Step 1 - Yes, Step 2 - No]
Let's say you want to give 2 different discounts on one order. Your bottom shelf Grand Daddy Purp is $100/oz. Your discount is 20% on 1 ounce. The total price for the item will be $80.
But let's say you have another promotion for 10% off the whole order. You apply the 10% discount. Now the price for the whole order is $70.
In this case, both discounts are being applied to the original subtotal.
Some retailers prefer that instead of applying discounts to the Original subtotal, discounts are applied to the Discounted subtotal. For instance, If you discount 20% on $100 and then discount 10% on $80, your discount will be $72. If this sounds like something you want to do, here's how to accomplish it.
Step 1: Set up a discount that auto-applies to the item you want to discount. You can also use this without Auto-Apply.
Step 2: Set up a discount that you Enter at Register. Name it something meaningful.
At the Register:
Add all items on the register.
The first discount will be auto-applied for the item.
Apply the second discount manually. Tap the Enter at Register discount and apply the % for it.
At the register instead of $30, you'll see $28, because you're discounting 10% of $80 instead of 10% on the total for the order.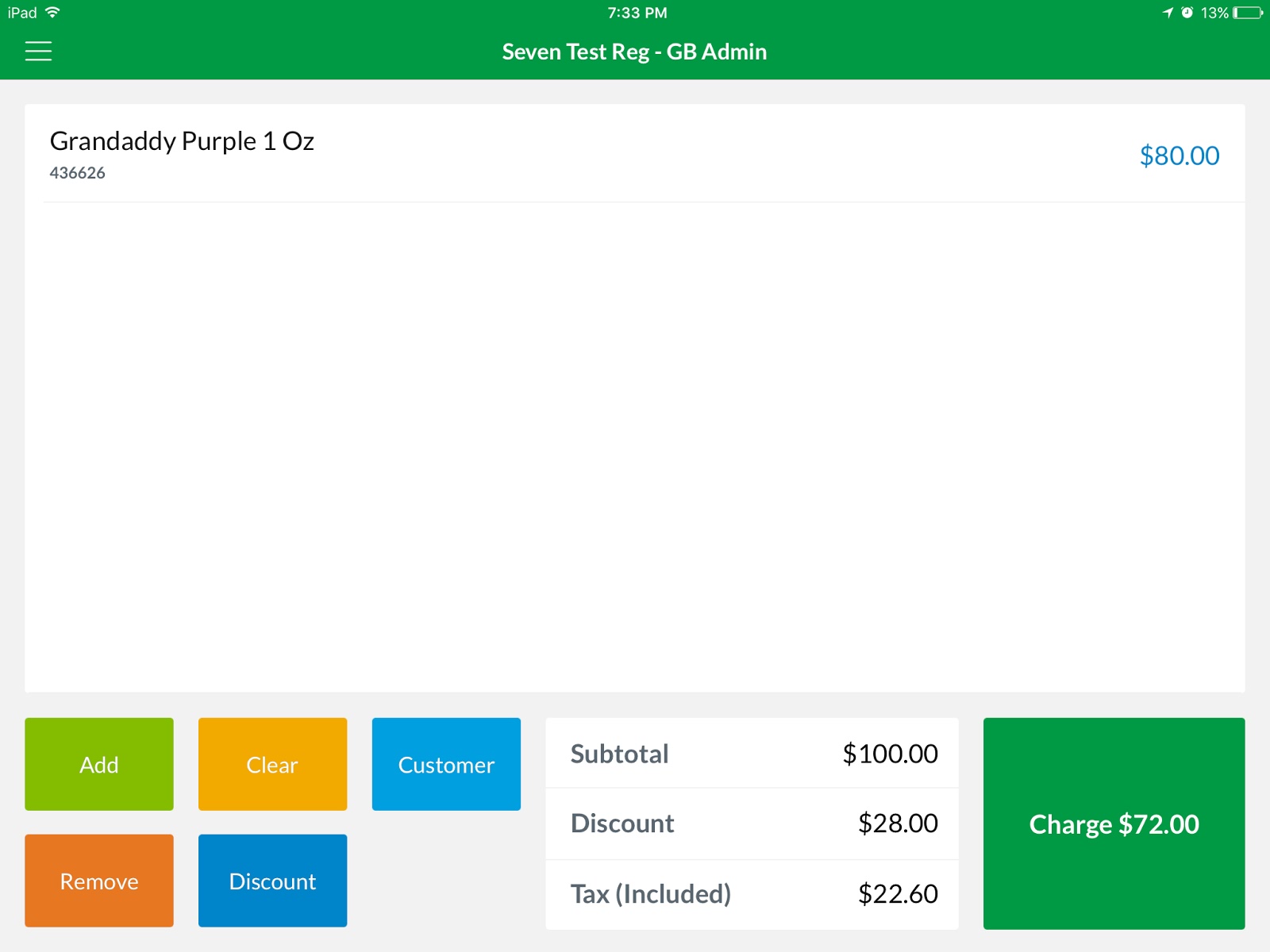 Don't see something that you would find useful? Let us know in the comments below!