Manual State Link: Process customer returns
This doc applies to Manual State Link only.
You can process returns from customers of both non-cannabis and cannabis items using the Greenbits Register.
If you need to do an exchange, first process a return, and then ring a sale for the new item the customer wants.
You can only process returns for Barcodes (SKUs) that are marked as For Sale.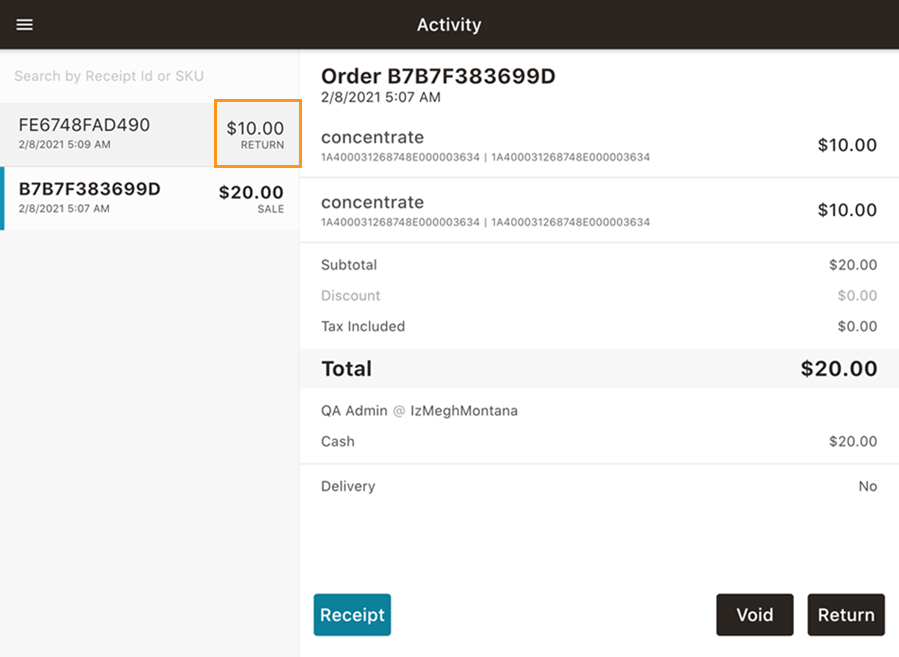 In the Register, open the side menu and select Activity.
Find the original sale in the Activity list. There are two ways to do this:

Enter the Receipt ID. You can find this on the customer's receipt. If the customer does not have a receipt, ask someone with Back Office access to look it up in the customer's transaction history.
Search the Barcode (SKU) of the item they're returning. A list appears that includes all recent transactions that included this item.

Select the appropriate transaction, and then press Return.
Scan the barcode label for products to be returned, or type the Barcode (SKU).
Once you've added all Barcodes (SKUs) that need to be returned, tap Return Items.
Give the customer the Amount Due from your drawer.
Select Print Receipt and Continue.
Put the returned items into your store's returns area, if you have one.

Some states do not allow you to resell returned cannabis items. Your store may have a place set aside for returned items so your store management can process them compliantly later. Talk to your Store Manager about what to do with the returned items after you process a return.
The return transaction displays in the Activity list.
Once you return a product on the Register, Greenbits automatically adjusts your inventory and your current drawer's expected cash total to reflect the return.