Wired Register Kit Set-Up
This hardware is not recommended. For current Register set-up information, see Set Up Your Hardware.
This guide walks you through setting up the discontinued Wired Register set-up with the TSP100III Ethernet receipt printer.
Ethernet connection adapters for iPad
To connect your iPad to your network via Ethernet, you'll need the following:
Included in your Wired Register Kit:
1. Apple Lightning to USB adapter
2. Apple USB to Ethernet adapter
3. Ethernet cable
Included with your iPad:
4. Apple Lightning cable with charging block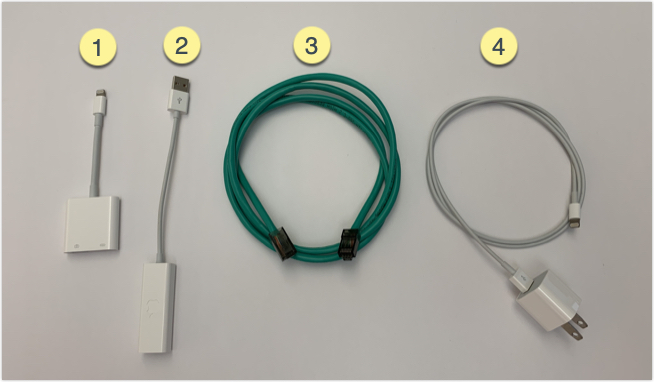 Connect the Lightning to USB adapter to the USB to Ethernet adapter.

Connect the USB to Ethernet adapter to the Ethernet cable.

Connect the Lightning to USB adapter to the Lightning cable.

Connect the USB to Lightning adapter to your iPad.
Connect the Lightning cable to a power outlet. The Ethernet cable will be connected to the TrendNet switch.

TrendNet 8-port network switch
A TrendNet 8-port unmanaged network switch is included in the Wired Register Kit so you can connect each piece of hardware to your network without having to connect all of them directly to your router, which may not have enough Ethernet ports to accommodate all of your iPads, printers, and Integrated Scales. In this way, a network switch is like a power strip, except it carries network and internet signals instead of electricity.
If you have multiple Wired Register Kits, each Register should have its own network switch, with each network switch independently wired to your router.
Connect the network switch to a power outlet using the included power cord.
Use Ethernet cables to connect the following devices to the network switch, in any order:

A LAN or numbered port on your router. Do not connect to a port labeled WAN or Internet.



Greenbits does not support ISP-provided wireless gateways or wireless repeaters/extenders. See our network recommendations for more details.

Integrated Scale (optional)
iPad


Attach labels to each power and Ethernet cable so you and your staff can easily identify which cable goes to which device in case you ever need to troubleshoot or replace one of the devices.
Change your iPad settings for Ethernet connection
After connecting your iPad to the network switch:
On your iPad's home screen, select Settings.

Confirm that Ethernet appears on the left-side menu. This means your iPad is connected to the internet, printer(s), and scale(s) over the wired connection.

Select Wi-Fi. Tap the toggle to turn Wi-Fi off.

Back on the left-side menu, select Touch ID & Passcode.

Scroll down to the Allow Access When Locked section and make sure USB Accessories is toggled on. This helps maintain a stable connection over the Apple USB Ethernet Adapter.