Dutchie Pay Automated Clearing House (ACH) Operational Guide for Retailers
Overview
Welcome to Dutchie Pay, the first fully integrated online payment solution for the cannabis industry. This guide is designed to provide you with a high level overview of the ACH Network, aka the payments rail utilized by Dutchie to process consumer payments made using Dutchie Pay. Our goal is twofold: to give you a deeper level of knowledge on the funds flow and settlement times to better understand how Dutchie uses ACH to process payments, and to provide you with a toolbox of resources when a consumer payment is rejected or returned. Let's get started!
What is ACH?
The Automated Clearing House (ACH) Network is an electronic funds transfer system used to move money between bank accounts, and has been in existence since the 1970s. The ACH Network processes trillions of dollars each year in payments, and is one of the most reliable, safe, and affordable payment rails in the United States.
Nacha governs the ACH network and sets the rules and guidelines for the ACH Network as the governing body.
What is an ACH transfer?
An ACH transfer is any movement of money from one bank account to another over the Automated Clearing House (ACH) network. This includes everything from person-to-person transfers and bill payments, to direct deposits from employers or the government. The ACH network spans roughly 11,000 financial institutions across the United States.
There are two kinds of ACH transfers:
1. ACH debits are requests for the ACH network to "pull" funds from the consumer's account for the purchase of the product, and .
2. ACH credits are requests to "push" those funds (minus fees owed to Dutchie) to the dispensary. .
What parties are involved in an ACH transfer?
All ACH transactions have (at minimum) the following participants:
(1) an Originator - the party initiating the transaction,
(2) an Originating Depository Financial Institution (or ODFI) - the Originator's bank,
(3) an ACH Operator (either The Federal Reserve Bank or The Clearing House) - the entity that acts as a central facility for the clearing, delivery, and settlement of ACH entries,
(4) a Receiving Depository Financial Institution (RDFI) - the Receiver's bank, and
(5) the Receiver - the party who authorized their account to be debited or credited by the Originator.
In the case of Dutchie Pay:
Originator : You our Dispensary
Third Party Sender (TPS) : Dutchie (an intermediary between You and the ODFI)
An Originating Depository Financial Institution (ODFI): the bank Dutchie is partners with
an ACH Operator (either The Federal Reserve Bank or The Clearing House) - the entity that acts as a central facility for the clearing, delivery, and settlement of ACH entries,
a Receiving Depository Financial Institution (RDFI): Dispensary's consumer's bank
the Receiver: Dispensary's Consumers
This allows Dutchie to provide a compliant payments solution for our dispensaries as well as their customers, while removing the burden of having to build an in-house payments solution or partner directly with a bank for payments processing.
How does an ACH transfer work?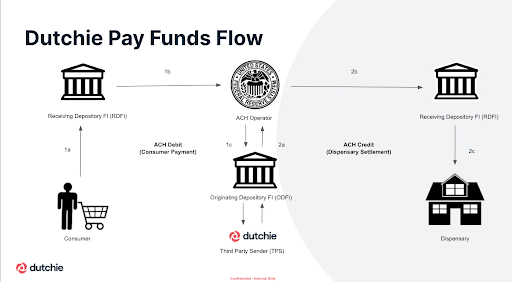 What is the Settlement Timing?
An ACH transfer can take anywhere from a few hours to a few business days, depending on the time of day it was initiated.
The first transaction (the debit to the consumer's bank account) is considered to be initiated at the time a purchase is completed in store at the dispensary. If the transaction is completed prior to Dutchie's cutoff time of 6 pm EST, it will be added to that day's batch and will settle the following business day; if it is after 6 pm EST, it will go out the following day, and will settle the day after.
Once Dutchie receives a settlement for the ACH debit to the consumer's account, it will kick off the ACH credit to the dispensary (minus fees owed)..

Let's look at a couple of examples:
A consumer purchases a product prior to 6 pm EST on Monday, which kicks off the API call to add the ACH debit entry to that day's batch for processing. The ACH debit settles on Tuesday, and the corresponding ACH credit to the dispensary is initiated (minus fees). The credit will settle in the dispensary's account on Wednesday.
A consumer purchases a product after 6 pm EST on a Monday. Since that day's cutoff time has passed, the ACH debit from the consumer's bank account will be initiated the following day on Tuesday. The funds from the debit settle on Wednesday, and the corresponding ACH credit (minus fees) is initiated the same day. Funds are available to the dispensary on Thursday.
Ultimately, dispensaries can expect to see funds from a consumer payment settle in their bank account two business days after the batch for a given payment was initiated. Please keep in mind that weekends and federal holidays are not considered business days when it comes to ACH processing.
Error Codes
So far we've discussed where a consumer initiates a payment, has the funds available, and the dispensary receives the payment. However, there can be several different scenarios where a consumer payment may be rejected, meaning it cannot be initiated.
Below are examples of error codes your dispensary may see at the point of sale. Please use discretion when communicating the reason for the error code to consumers. Please encourage the consumers to reach out to Dutchie for further questions on the errors.
| | |
| --- | --- |
| Error Code | Description |
| | |
| B100 | Exceeds transaction limit |
| B101 | Exceeds daily limit |
| B102 | Exceeds weekly limit |
| B103 | Exceeds monthly limit |
| B104 | Funds not available |
| S001 | MX API is down |
| S002 | Sift API is down |
| S003 | Dutchie API is down |
ACH Returns
An ACH return is equivalent to a bounced check. An ACH return occurs when a registrant provides bank information in order to make a payment; however, the payment is returned by the bank for one of many reasons, the most common of which include: Insufficient funds. A stop payment
Within Dutchie's funds flow, an ACH return could occur when a consumer's bank (RDFI) returns a previously originated consumer payment. This means the consumer payment initially appeared successful; however the consumer's bank has determined it cannot be paid and is therefore returning the payment (essentially "canceling out" the original transaction).
There are dozens of return reason codes, which must be included on the ACH return from the RDFI to provide the dispensary and Dutchie with details as to why they are returning the payment. Below are a handful of common return reason codes, along with the time frame within which the RDFI must return the original transaction back to the ODFI.
| | | |
| --- | --- | --- |
| Return Code | Description | Time Frame |
| R01 | Insufficient funds | 2 banking days |
| R02 | Account closed | 2 banking days |
| R03 | Account not found | 2 banking days |
| R04 | Account structure invalid | 2 banking days |
| R07 | Authorization revoked | 60 calendar days |
| R08 | Stop payment | 2 banking days |
| R09 | Uncollected funds | 2 banking days |
| R10 | Consumer advises Originator is not known and/or not authorized to debit account | 60 calendar days |
| R11 | Consumer advises entry is not in accordance with the terms of authorization (for example, different amount) | 60 calendar days |
| R16 | Account frozen | 2 banking days |
| R20 | Non-transaction account (for example, certain types of savings accounts only allow 6 withdrawals per month) | 2 banking days |
How will I know if I receive an ACH return?
Dutchie has a list of all the returns that your dispensary has had until now. If you do want to see a copy of your returns for a particular month, please reach out to Dutchie and we will provide you with a copy of the monthly returns.
How are ACH returns handled?
The majority of ACH returns will unfortunately result in a loss; however there are certain return codes where additional action can be taken. R01 and R09 returns (insufficient/uncollected funds) can be "retried" up to two additional times. Dutchie will attempt to collect on these transactions on behalf of dispensaries, and will provide notification if these attempts are successful. Depending on the circumstances of the return and what is included in their contract with the consumer, dispensaries may also choose to pursue other methods of recourse, such as reporting to law enforcement, collections, or consulting outside counsel.
Dutchie uses different vendors as well as highly trained internal personnel to prevent high rates of returns. Dutchie uses several methods to prevent these returns, they include verifying consumer bank accounts, ensuring sufficient bank balance to process the transaction (e.g the transaction is for $100 - Dutchie ensures the bank account has that amount for the transaction to be processed. Dutchie also monitors these transactions on a daily basis to look for unusual transactions, fraudulent activities or unauthorized returns.
For a limited trial period for a length of time that shall be exclusively determined by Dutchie, Dutchie shall take on responsibility for losses that result from returns, cancellations, unauthorized entries, or other transmittals that cannot be processed so long as Merchant has not caused the error.
Why should I care about the returns?
Returns are like bounced checks or fraudulent transactions which mean losses for you as the dispensary as well as Dutchie. However, the main reason returns should be kept as low as possible is because the financial institutions or the ODFIs that currently work with Dutchie to actually move the money review returns. The ODFI tracks the returns based on dispensaries and dispensaries tracking high rates of returns can be shut down by the ODFI.
ODFI may choose not to do business with dispensaries that they might think are higher risk from the returns.
How can I help to reduce returns?
Dispensaries can largely help with reducing returns, below is how you can work together with Dutchie to reduce returns and fraudulent activity:
Please confirm transactions, please ensure that the individual who paid for the transaction is the same individual picking up the order. You can do this by confirming the ID/driver's license matches the Dutchie Pay account / transaction
Please beware, if you see something suspicious or strange, like an individual coming in several times in a day to pick up different orders, please report such activity to your Dutchie Account Manager as soon as possible
If you do notice the consumer come in several times, please let them know that there was an issue with their payment and that they would have to pay for their order in cash. This will limit the losses
Please ensure your staff has undergone training in Dutchie POS terminals and is comfortable using it, this will ensure there aren't any accidental mistakes when charging consumers
Confirm with your consumers which items are being picked up and what the final transaction amount is, so that they will know to expect the charge amount on their bank statement.
The above suggestions are not the entire list, however, we trust that you know your consumers well, you deal with the in-store activity, and hope that you would let us know if there is something that is unusual or suspicious.
ACH Notifications of Change
An ACH Notification of Change (NOC) is similar to an ACH return, however it is a zero dollar entry where no funds are actually being pulled back. An NOC is more of a "heads up" from the RDFI that certain information on the original ACH entry was incorrect. Similar to ACH returns, RDFIs are required to provide an NOC code which will communicate the reason for the NOC to Dutchie and its dispensaries. Here are some common examples:
| | | |
| --- | --- | --- |
| NOC Code | Description | Time Frame |
| C01 | Incorrect account number | 2 banking days |
| C02 | Incorrect routing number | 2 banking days |
| C03 | Incorrect routing number and account number | 2 banking days |
| C05 | Incorrect transaction code | 2 banking days |
| C06 | Incorrect account number and transaction code | 2 banking days |
| C07 | Incorrect routing number, account number, and transaction code | 2 banking days |
Unlike ACH returns, NOCs contain the correct information on the entry. Originators must update their records with the correct info within six days or prior to the next transaction being initiated, whichever is sooner. Dutchie will update all account information received on NOCs on behalf of its dispensaries, so the proper information is used going forward.
In Summary
Dutchie understands that processing payments can be complex; however we are here to make the process as easy as possible for you as your trusted payments partner. We hope this guide has provided you with additional information on the ACH Network and processing payments using Dutchie Pay.
For additional information or assistance, please contact us at payments@dutchie.com or via phone at 866.838.8244.